---
About this event:
Created by ewlnx
---
501 W Dresser Rd, DeKalb, IL 60115, USA
Biking with Beanzie (BWB) is a recreational ride presented by Kishwaukee Kiwanis Club of DeKalb and sponsored by KishHealth System (part of Northwestern Medicine). The ride route consists of primarily flat rural roads with some rolling terrain with estimated ride options of 25, 46, 62, 80 or 101 miles.
Routes go through scenic DeKalb, Ogle and Lee County windmill farms. All roads are well-paved, lightly traveled and posted with signs containing ride information and bits of Beanzie humor. BWB also offers 3, 5 and 8-mile family-friendly, community bicycle pathway routes. All ride routes are provided with rest stops and water stops, regardless of the length of the route chosen. Bagels, fruit, beverages and a variety of other food options will be provided at rest stops.
Our ride is easy to navigate with well-marked routes, route maps, and cue sheets. Friendly sag wagon drivers are knowledgeable about the route and bicycling. Ice cold watermelon and other snacks will be available following the ride. As a rider of the Biking with Beanzie event, you will be investing in our Community. BWB is a "family" event that promotes fitness and family fun. Profts from this ride go to support the Kishwaukee Bike Pathway Projects and other projects within DeKalb County. BWB is partnering with KishHealth System and Live Healthy DeKalb County initiative to help promote a healthier lifestyle within DeKalb County.  Ride starts and ends at DeKalb High School (DHS), 501 W. Dresser Road, DeKalb, IL  60115
Biking with Beanzie Ride: Registration & General Info "Order Form"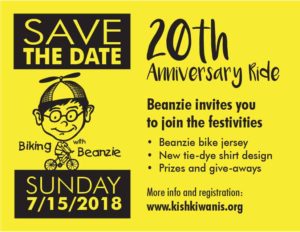 Beanzie2018 Trifold Flyer